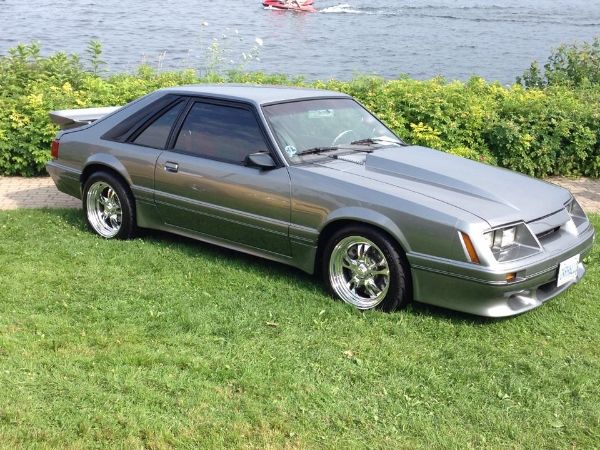 Congratulations to Rob Hall (FEP Username: Quicksilver) as the winner of this month's Ride of the Month. His winning Fox is a 1984 Mustang GT that Rob ordered on April 10th ,1984 and he took delivery of his new Mustang on June 6, 1984. Rob had loved the new Mustang body style since seeing a 1979 Pace Car for the first time and knew he needed one to call his own. For the first 3 years of ownership, Rob left well enough alone and just drove and enjoyed his GT. All of that was about to change and it started simply enough with a set of headlight covers.
In 1987 when Rob couldn't get new TRX tires, he made the choice to swap out a set of different wheels and tires and from there the modifications began. The chassis was braced, the rear brakes were converted to disc, and after many CFI wiring issues, the decision was made to rewire the car and convert it to SEFI. The AOD transmission was used to prototype parts and received a total rebuild by Lentech Automatics. A cowl hood was chosen to replace the stock unit and the engine underneath was replaced with a 306 roller motor that was treated to new fully balanced internals, ported GT40 heads, an E cam, 1.7 roller rockers, a port matched Cobra intake, upgraded timing chain, oil pump, larger throttle body, and mass air meter. Ultimately, a Ford Motorsports supercharger and an 8.8" rear-end were added to wrap-up this round of modifications.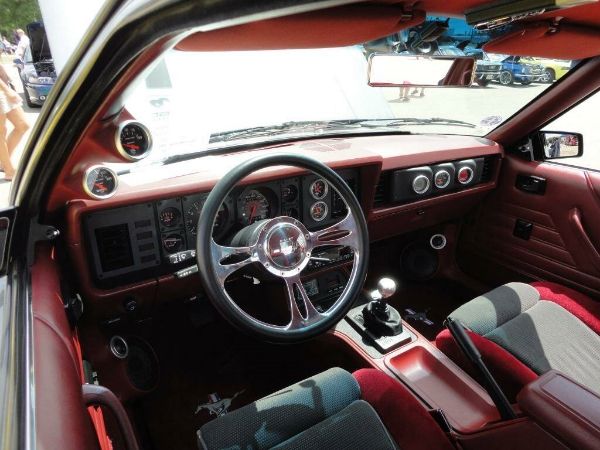 The car remained basically unchanged until a fateful conversation with a buddy of Rob's in 2003 when the decision was made for a complete redo of the entire car. This round of modifications included the custom body work and paint, a smoothed engine compartment, engine, tranny, and some addition parts were shaved off for that smooth/custom look. The front and rear bumper covers were swapped for 86 GT pieces as well as all the body side moldings. The 84 GT also received new suspension, new wheels and tires, a custom interior, and new license plates (look for the name hidden in the plates). In all, these changes and modifications took Rob the better part of 9 years to complete to bring forth the car we see today.
Throughout the years, this great Mustang has won many awards in all its different iterations. These include a trophy in the stock class at Rob's first car show in 1992. Several various awards were won at the Ford Motorsports Nationals at Maple Grove Raceway from 1994-2000. A special award to Rob (thanks to the love of his Mustang) was the Summertime Appreciation Award for helping to continue the Automotive Hobby. With the latest modifications, the awards have continued including The Best Modified 1975 – Present and Best Paint in a local show in 2012. Then in 2013 at the same show, the car won Best Modified again.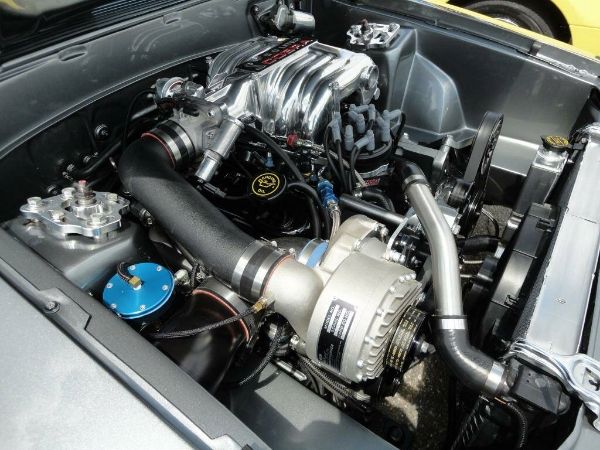 For 2014, Rob decided he wanted to drive and enjoy the GT more so he took the car to the Ford Nationals at Carlisle, the 50th Anniversary Celebration at Ford in Oakville, Ontario, and the American Muscle Car Show at Maple Grove Raceway. This awesome car won trophies again at the shows. But for Rob the real highlight was making new friends, hanging out with FEP members from different parts of the country, and getting to see all the different cars up close. Rob has plans to attend many events again next year thanks to all the great times he enjoyed in 2014.
This car was also featured in the December 1997 issue of 5.0 Mustang wearing its original body and paint and the swapped SEFI. The car was also the first R&D Mustang for Lentech. That gave it the first Lentech AOD in a Mustang with the 1,2,3 shift pattern, tranny brake, and later the overdrive lockout. All this R&D work caused the car to be driven by Magazine Editors from Super Ford (Donald Farr) and Muscle Mustangs & Fast Fords (Terry McGeen) with feature articles being written about the transmission.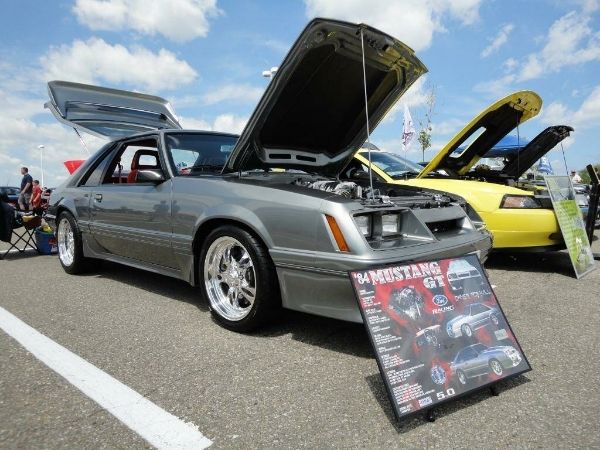 Rob said that biggest challenge with getting the car to its current condition was coming up with a plan and sticking to it. Rob's plan included writing down all the things he wanted to do to build the car of his dreams. He even bought a sketch book and colored pictures of Mustangs to help him choose paint colors and interior colors. With all the long hours of fabrication and finish work these images helped to keep Rob on track while building his dream Mustang amidst the daily life we all lead. For Rob, being able to picture his finished car while building it helped him see it through until today when we all get to enjoy the rewards of his years of work. Thanks to Rob for sharing the great story of Quicksilver with us and thank you for all the years of hard work to showcase what a cool car a Mustang is and can be.
Rob wraps up this month's story with this: "Sometimes when people see the car, they ask if I drive it. I have also been asked if I think I went too far and built a trailer queen. I simply answer by saying, "I don't own a trailer. I do carry touch up paint and I've had the fun of driving it over 2,500 miles this summer. Hope to meet/see again more FEP members at events or out on the roads next summer."